Launch your bots even faster with Facebook Messenger templates for Facebook Messenger marketing!
Simply copy the chatbot templates into your MergeMessenger tool.
Questions to segment your audience: Asks what they're looking for
Lead capture forms: Collects lead qualification data and emails it to you
Welcome page: What visitors see on their first contact
Default page: What visitors see when the bot doesn't understand
Main menu: Standard menu of options, like Home and Support
Here are just a few highlights of each chatbot template!
Ecommerce Facebook Messenger Template
Experience the ecommerce chatbot on Messenger now!
With the ecommerce bot template, you'll be able to do things like:
create product galleries
offer product recommendations
guide users to your site to make a purchase
collect conversion forms with emailed lead alerts
On first contact, users are invited to tell you more about what they're looking for, adding custom tags to their customer profile you can use to segment them for future messaging!
Showcase your products with interactive image galleries that users swipe through to see more.
Real Estate Facebook Messenger Template
Experience the real estate chatbot on Messenger now!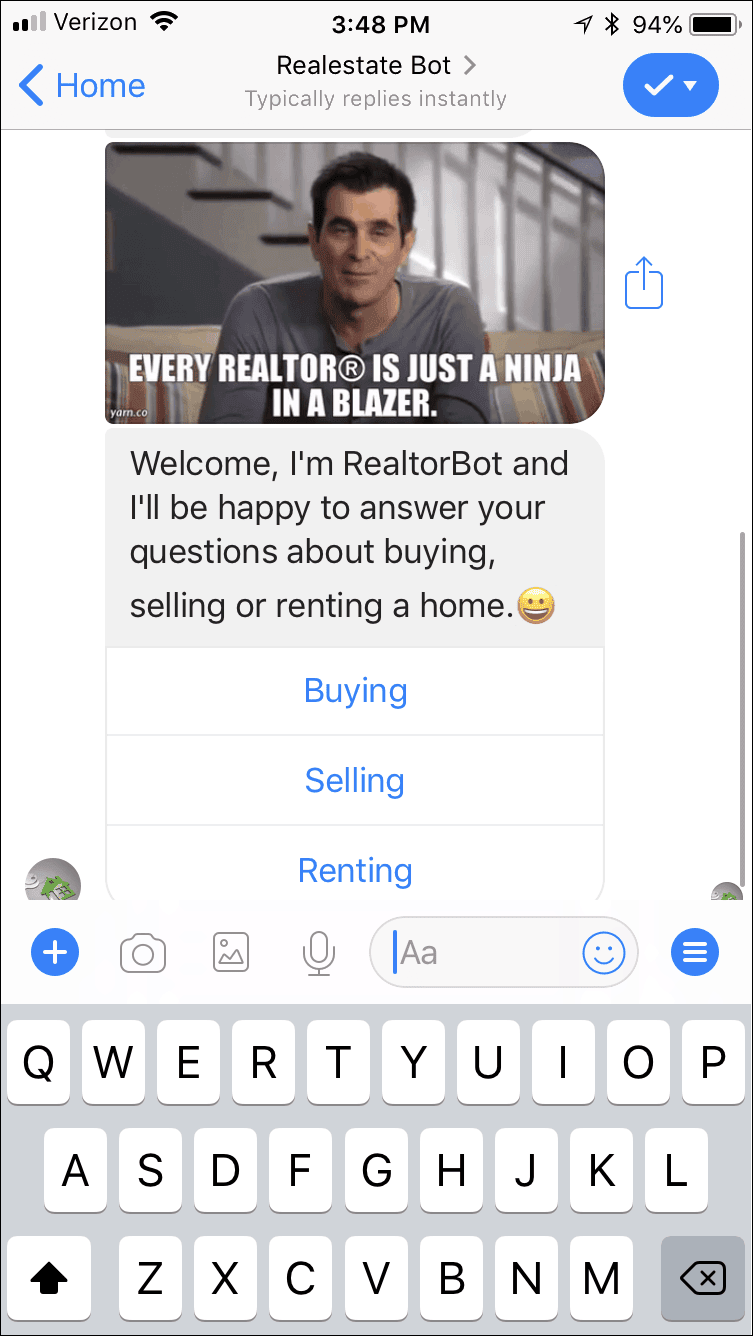 The real estate chatbot template is ready to go for Realtors.
Automation basics free you up to keep growing your business.
The welcome page lets new clients segment themselves by what they're looking for (to buy, rent or sell).
You can use contact forms that let interested people let you know their phone number and email where they want to be contacted and their preference.
Or, deliver inquiry forms for buyers, sellers and renters each collect data like where they're looking, what they're looking for, bedrooms and budget.
"Meet the Team" pages to showcase your personality and experience and give people a way to contact the agent directly.
Last but not least, use the image galleries to showcase available properties.
Lead Generation
Experience the lead generation chatbot on Messenger now!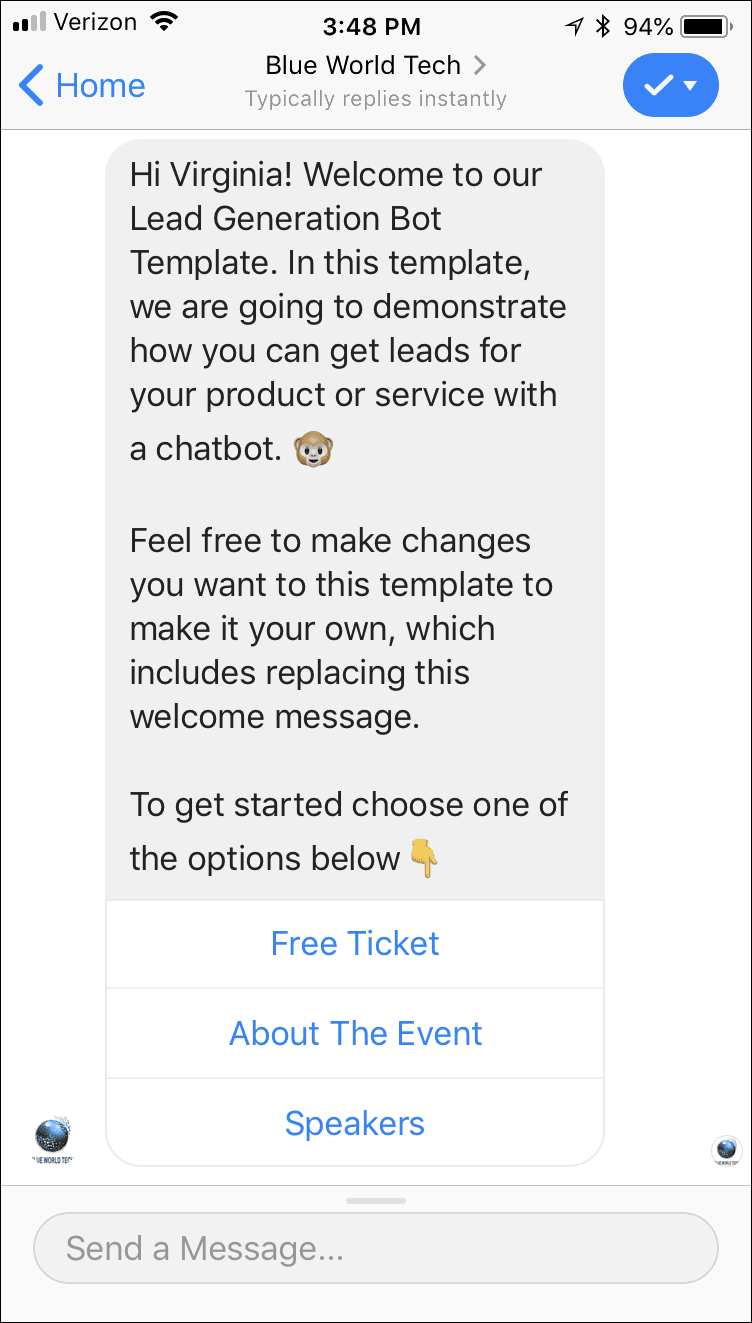 Set up a bot with the sole purpose of collecting leads!
The lead generation chatbot template is perfect for collecting contact information in exchange for things like webinar tickets or downloads.
Whenever the chatbot gets a new contact, you'll get an email notification so you can follow up with your fresh lead!
Restaurant Facebook Messenger Template
Experience the restaurant chatbot on Messenger now!
Use this bot template to prompt users to do things like:
browse an image-rich menu
fill out a contact form
place a reservation
send out brief customer surveys in exchange for coupons
place a catering order with Messenger conversion forms
Dentist Office Facebook Messenger Template
Experience the dentist office chatbot on Messenger now!
The dentist office bot is perfect for dentists and doctors alike.
You can use it to direct people to your location(s), learn about services, set up appointments or meet the professionals on staff.
Even something as simple as having a picture of each dentist or doctor with a friendly bio will make potential patients feel more comfortable with coming to your office.
You can also use the bot to answer frequently asked questions, provide users with directions to your office, fill out first-time visit forms, or offer promotions.
Personal Coach Facebook Messenger Template
Experience the personal coach chatbot on Messenger now!
Whether you're a business coach or a fitness coach, this is the bot template for you.
It's suited for anyone who plans to coach, train, motivate, consult or educate clients.
Accordingly, this template lets you gather data and info on new clients, collect lead information, set up initial consultations, set up ongoing appointments, and introduce yourself with a bio. You can also use this template to provide tips and helpful articles to your clients.A fitness coach, for example, can offer workouts or nutritional advice straight from the bot. Marketing Agency Facebook Messenger Template Experience the marketing agency chatbot on Messenger now! The marketing agency chatbot template is designed to nurture leads, provide research studies, and be an all-around resource for current and potential clients. Starting with the welcome page, you'll be able to segment subscribers by their interest. The template was built with a digital marketing agency in mind, but can be customized to suit any type of marketing or creative agency.Gym Facebook Messenger Template Experience the gym chatbot on Messenger now! With the gym chatbot template, you can connect with your gym members in a variety of ways.You can keep them up-to-date with new classes, announce special events, showcase facility upgrades, and even encourage members to bring in their friends!The bot can also answer common questions regarding hours, location, pricing, etc. You can even send out offers for a free trial to new customers via the bot:Contest Facebook Messenger Template Experience the contest chatbot template on Messenger now! Thinking of running a contest?Contests are a great way to gain exposure while gathering leads and followers. You can use the contest template to create a giveaway or a comment-based contest powered by Messenger (and your chatbot!).With a comment-based content, you can announce the contest via a Facebook post and users will be entered to win whenever they comment.On the backend, you'll set up a comment autoresponder that prompts your contest chatbot to run whenever a comment is left.The chatbot will deliver a message regarding the contest, and if the user interacts with the bot, they'll be added as a new Messenger contact. Survey Facebook Messenger TemplateExperience the survey chatbot template on Messenger now!All businesses can benefit from customer feedback — a survey chatbot makes it easy to gather it. The survey chatbot is streamlined and straightforward, and easy for users to complete.That ease of use makes it much more likely that they'll complete the survey.Whether you're looking for feedback on products and services or trying to figure out your customers' knowledge and experience, you can set it up with the survey chatbot template. Lead Qualifying Template
Experience the lead qualifying chatbot template on Messenger now!
This lead qualifying chatbot template comes to you care of Catherine Howell, the CEO of Eight Loop Social and founder of the Facebook Ads Academy. Cat knows a thing or two (or a hundred) about generating and qualifying leads — Eight Loop Social brings in six-figure revenue each month and her specialty is helping social media marketing agencies scale up.This lead qualifying template is what Cat uses, and it's working wonders for her.This lead qualifying bot template comes complete with a sophisticated sales funnel that gives you valuable insight into your leads.You can take Cat's bot and make it your own by tailoring the lead qualification questions to your own business.
Podcast Template
Experience the lead qualifying chatbot template on Messenger now!
Grow your podcast listeners and increase engagement using a Facebook Messenger chatbot.
Our podcast template makes it oh-so-easy to get started.
Using our podcast chatbot template as a base, you can create a custom experience for your listeners.
You can update them whenever a new episode comes out, share announcements and use drip campaigns to encourage reviews.
Keep your users engaged with your podcast by using the chatbot to share exclusive info on guests, hosts and topics (your listeners will love it!).
You can also set up your podcast to answer FAQs.