20 years ago, the only time you would have heard the term "social proof" would have been at a psychology conference or a university economics lecture.
Ask a marketer today if they're using social proof, and they'll jump in with a quick "of course."
The concept of social proof — the phenomenon that our own behavior is impacted by the influence, actions, attitudes, or beliefs of others — has been around for quite some time.
We see social proof examples in the real world all the time:
The long line out the door of a restaurant signals that the food is good
A celebrity endorsement making us want to buy a product even more
An empty bar making us uncomfortable and we assume there's something wrong with it
In short, social proof digs into the basics of human nature.
We're social beings and we subsist on the positive benefits of social relationships, and today, the concept of social proof has become a key tool for today's modern marketer — allowing them to capitalize on the psychological underwiring of consumers.
It's hard to visit a website in 2019 without seeing social proof of some form: a review, a testimonial, in-line notifications, popup notifications, ratings, case studies, or the sorts.
And as social proof has become more common across the internet, it's harder than ever for your site to stick out.
It's important to stay ahead of the curve and identify how social proof has adapted so that you can best convert your visitors.
Here are three ways social proof has changed in 2019, and how you can adapt to the changing environment:
1. Social Proof Is Expected by Buyers

We're no longer dealing with an environment where people aren't aware of social proof. In fact, we've reached the point where website visitors are looking for social proof on a page as an essential part of the buyer's journey.
People often feel like they need to see product reviews or insight from previous buyers before feeling comfortable making a purchase themselves. Thankfully, for buyers and marketers, the internet has made this easier than ever.
For instance, let's consider a customer comparing Intercom's live chat software with Zendesk's competing offering.
Intercom's page validates their product claims by introducing customer logos and testimonials.
They indicate they are "trusted by more than 30,000 of the world's most innovative businesses" — and immediately below that text, they include logos from notable brands such as Expensify, Shopify, Product Hunt, and New Relic.
Following the logo section, Intercom provides a more in-depth point of social proof with a product recommendation testimonial from Jesus Requena, Director of Paid Subscriptions at Unity.
He cites the impact of Intercom in increasing their conversion rate by 45% and driving 80% of sales revenue.
Zendesk, on the other hand, while a well-designed and interesting page, provides an experience that feels slightly bizarre for the consumer of 2019.
Nowhere on the landing page are there common points of social proof: a reference to customers, case studies, or recent activity.
As a consumer raised in the era of customer centricity, it's an odd experience to say the least. This is a no-go for a major brand.
Holding both sites equal, a lack of social proof can make Zendesk's offer look a whole lot less appealing and possibly even less trustworthy.

And the numbers don't lie.
When you hear stats like 84% of consumers trust online reviews as much as personal recommendations or that testimonials can increase conversions on sales pages by 34%, it's hard to doubt the effectiveness.
2. Real-time Stats Are More Powerful and Authentic
While testimonials and case studies are great, a real-time overview into website activity is even more powerful.
This is a tactic that huge websites (especially sites in the travel and hospitality spaces) have been using for years.
On Airbnb's listing page, for example, when you're about to book, they add a quick stat to the page "17 others are looking at it for these dates" to urge you to take immediate action and not miss out.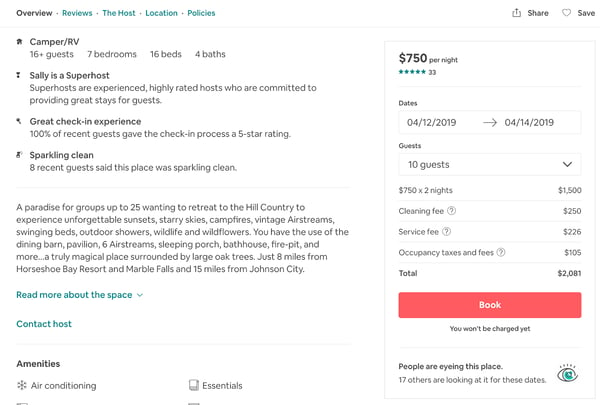 Please follow and like us: